Lowerhouse Mile - Environment
(Page 2 of 4)
'The Bird in the Hand'
Land lady Ester Dean stands with members of her family and some local residents outside the pub that bears her name above the door. The pub can be dated back to the 1840's if not earlier, and at this time it would have been known as 'The Bird in the Hand' bearing this name until c1884.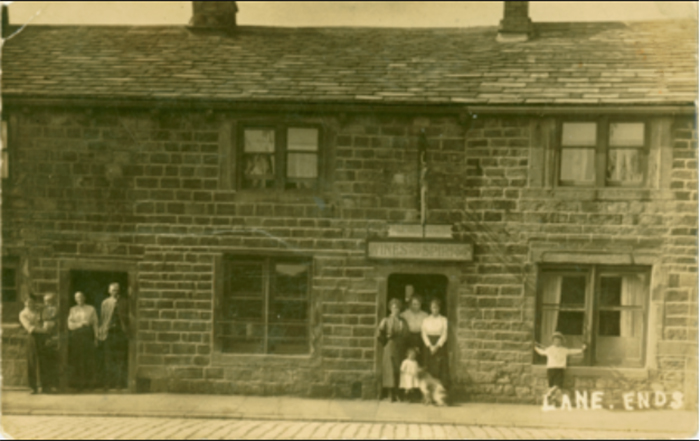 In 1854 the beerhouse was owned by John Simpson, and was unusually a Free House, meaning it was not tied to any particular brewery; so it could sell whatever beer it wanted. It was still a 'Free House' in 1888, and under the ownership of W. Simpson' presumably a relation to John above? The beerhouse appears to have continued under this name until around 1887, when Charles Ridehalgh took over running it.
Lane Ends
After this date the inn became known as the 'Lane Ends', although for decades afterwards was always referred to by the regulars as the 'Bird'. In the image below a group of gentlemen probably regulars, pose for a photograph outside the pub, which name has now changed to 'Lane Ends Hotel', which was probably after 1884.
The inn and the old cottages were demolished when the more imposing 'New' Lane Ends was built on an adjacent site during the development of Burnley's road network in 1926.
Lane Ends Makeover
In February 1980 the Lane Ends pub underwent a make-over and was tastefully decorated in a Victorian style to emphasises the original wood panelling in the new lounge area, and a tap room/games room with a pool table were added for customers.
The manager, Arthur Clift, came to the pub from the Morris Dancers in Colne. Arthur and his wife Nita were keen to develop the Lane Ends into a catering rendez-vous for lunch and evening meals, to be served in an intimate dining area.
Nita said:"This is not a place where the wife caters and the husband stays behind the bar, we both cook."