Lowerhouse Mile - Sport
(Page 1 of 2)
Sports & Leisure
Lowerhouse Cricket Club was formed in Queen Victoria's Silver Jubilee Year of 1862. The provision of land for a permanent ground by the Dugdale Family (owners of the large cotton mill in Lowerhouse) seems to have acted as a catalyst which saw several local clubs merge to form the club that exists today. These small teams had been based on the three villages of Habergham, Rosegrove, and of course, Lowerhouse itself.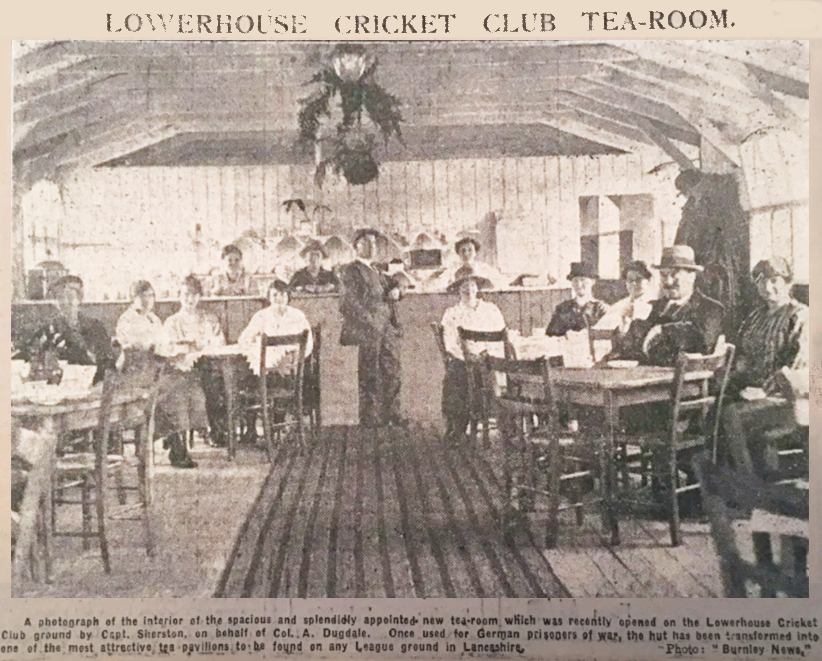 Newspaper Report
A photograph of the interior of the spacious and splendidly appointed new tea room which was recently opened at Lowerhouse Cricket Club by Cpt. Sherston on behalf of Col. A. Dugdale. Once used for german prisoners of war, the club has been transformed into one of the most attractive tea pavillions to be found on any league ground in Lancashire. (Photo: Burnley News 1921)
The Dugdale Family would play an important part in the Club's history and would have at least an honorary committee member right up to 1992, despite the family leaving for Gloucestershire in the 1920's and the big mill's demise in the 1930's.
Source: A History by Paul Hargreaves — Lowerhouse Cricket Club
Below are photo's of the ladies and gents cricket club bazaar committee's that were set up annually to organise and run a bazaar to supplement the cricket clubs financial funds.